Normal version of the Fox Muzzle.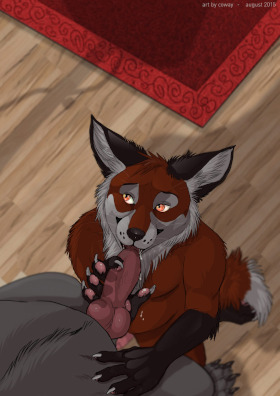 Moaning you lean back. This exciting sensation as the warm paw of the fox envelops your manhood is robbing you of all senses.. His warm breath on your sensitive spots. The red and white furred muttle opening and shortly after you feed the warm, wet tongue along the underside of your member. You look down into these warm, amber eyes of that fox. He presses his head closer and takes you member ever deeper into his muzzle. You see a content grin on his face as you start to moan and your hips start to push.
His hand deep in your soft fur, the fox presses himself close to you. Eagerly his well trained muzzle indulges in his work. The fox goes down on you again and again and you feel his eagerness to get you ever closer. A paw grabs the foxe's head hard and pushes that warm, moist muzzle firmly against your. Your breath goes shorter and you feel that this talented fox has just taking you to climax easily.
Optional: Custom Made
All sizes/variants:

More Information

| | |
| --- | --- |
| weight(Kg) | 0.560000 |
| Country of Manufacture | Germany |
| manufacturer | FurryStyle |
| Species | fox/foxcoon |
| color | fire red |
| firmness | soft(5) |
| total length (centimetres) | 17.8 |
| usable length (centimetres) | 16 |
| length | 17,8cm (7") |
| length(usable) | 16cm (6") |
| length(shaft) | --- |
| diameter(tip) | --- |
| circumfence(tip) | --- |
| material | Silikon |
| maximum penis length | 16cm (6") |
| opening in tip | Yes |
| XRector | No |
| ejaculating | No |
| vibrator | No |
| inflatable | No |
| penis bone | No |
| suction cup | No |